Hawkeye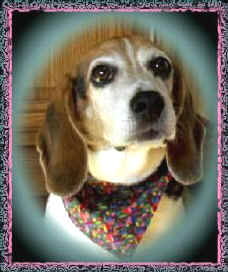 To see more pictures of Hawkeye, click on the picture above
| | |
| --- | --- |
| Born: | February 24, 1994 to April 3, 2008 |
| Height: | 13 inches |
| Weight: | 19 pounds |
| Markings: | Tri-color |
| Health Issues: | None |
The first time we met Hawkeye, he was eight weeks old and standing IN a big bowl of food fiercely guarding it. This food was HIS and none of the other puppies were going to have any of it. His breeder told us that he had to physically separate Hawkeye from his liter mates to be sure that everyone got to eat. You have to know beagles to know how much Hawkeye was showing his true love in life, food.
Bogie and Hawkeye were instant buddies and played together constantly. Bogie taught Hawkeye how to howl for food and how to give his Daddy soulful looks in order to get his way. Bogie also tried to teach Hawkeye how to jump up on the bed by jumping on and off the bed repeatedly with Hawkeye watching. But Hawkeye had a problem with this because when he jumped he always flew threw through the air backwards. He just couldn't propel himself forward even though Bogie showed him how for hours on end. Poor Hawkeye was constantly crashing in to walls and furniture because he couldn't control where he was jumping. And much to our dismay, Hawkeye showed excitement by jumping up and down but for Hawkeye this meant flying uncontrolled through the air. After several years of practice, Hawkeye finally mastered the art of moving forward when he jumps, however, he still needs a little bit of help getting on the bed.
One of my favorite stories about the bonding between Hawkeye and Bogie happened shortly after Bogie started having seizures. We were taking a walk when I noticed that the boys weren't playing their usual game of "who gets to lead". Instead they were walking slowly side by side and it looked like Hawkeye was actually holding Bogie up. I thought that this was very strange behavior until we walked in the door and Bogie fell over and started going in to a seizure. Once we saw Bogie go in to the seizure, we realized that Hawkeye had sensed the seizure coming and actually held Bogie up until he got home where we could take care of him during his seizure.
Hawkeye's favorite pass time is having his chest rubbed. He is a true couch potato and will lay for hours and let you rub his chest. And if you stop, he will grab your hand with his paw and give you the pleading look that only Hawkeye can give, asking you to continue.