Bogie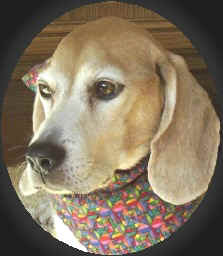 To see more pictures of Bogie, click on the button below:

| | |
| --- | --- |
| Born: | April 18, 1990 to August 12, 2006 |
| Height: | 15 inches |
| Weight: | 19.5 pounds |
| Markings: | Tri-color |
| Health Issues: | Auto Immune Thyroiditis (seizures until treated) |
Bogie came to share our lives shortly after my first beagle, Chessa, went to the rainbow bridge. I wasn't ready for another puppy. In fact I wasn't sure that I ever wanted another dog because I didn't think that anyone could ever take Chessa's place. When Bogie and I met, I was crying from missing Chessa so much. This little eight week old puppy crawled in to my lap, stood on his hind legs and licked my tears away. He stole my heart and came home with me that day.
Bogie is sweet, sensitive, loving and most of all playful. At over 13 years old, Bogie will still bring you a stuffed animal and insist that you play with him. Bogie is extremely intelligent and learns commands very quickly, however, he is all beagle in that he does what HE wants to do.

When Bogie was four years old, we decided to add another beagle to our family. True to his sweet nature, Bogie accepted Hawkeye immediately, although Hawkeye tormented Bogie by playing tug of war with his lips and ears. Bogie taught Hawkeye all the rules of the house including:
| | |
| --- | --- |
| | "This house is mine" |
| | "Everything in this house is mine" |
| | "The humans in this house are there to please me" |
After several weeks we noticed a small problem between Bogie and Hawkeye. At meal time, Hawkeye would try to eat his food so fast he was choking and he would growl the whole time he was eating. We knew that Hawkeye was very concerned about his food based on where he was the first day we met him and we thought it was just "Hawkeye". We were so wrong. One day I saw my sweet Bogie pick Hawkeye up by his neck and pull him out of his food bowl. I guess even sweet dogs have their limits and for Bogie (like most beagles) it was food. Today, we feed all of the boys in their crates where they feel safe and secure knowing that no one can steal their food.
Although Bogie loves everyone (and everyone loves him), he is really Daddy's boy and his Daddy absolutely adores him. Their favorite pass time is watching old show tunes, however, much to Bogie's dismay, Daddy insists on singing all the tunes to him. Sometimes Bogie joins in, trying to drown his Daddy's voice out and other times he just leaves the room until Daddy stops.